You are HERE because you want more success. Success can be defined as more profits. More time. More flexibility. It's anything and everything that you want.
Click HERE to see screenshots of latest success story updates from 2019, 2020 and 2021!
Dr. Russell Schafer: "This course paid for itself very quickly.  I'd estimate that the course  put an extra 80k in my pocket this year.  It moved me from a bottom tier dentist at my DSO (Kool Smiles) to one of the top producers with the happiest patients and parents.  Also my staff is happy and productive. " Russell has purchased an office and almost doubled the production going from 413k to 801k in 1 year! See his written testimonial here.
Dr. Mark Regenold: "I'm at 900k for the year...[vs] 400k in 2014 (pre-Maverick)." View his testimonial video here and listen to how he says Maverick program saved his family & house or read his written testimonial here.
Dr. Peter Bowman: "I grew $250,000! Many credits directly to Tuan's teachings. #Gettin'AllMaverickyInHere"  [Update] Since joining Maverick, we are at 240k a month now!
How do I achieve these results for doctors like you? How do I put to use all your clinical skills to make your work & life more profitable and enjoyable?
How am I able to reproduce the results over and over again for hundreds and hundreds of dentists? Jump here for more testimonials if you want social proof
The Problem:
We are classically trained to be methodical. We spend 4 years of dental school and then spend the rest of our careers with CE to master our hand skills.
But what are we missing? What are the crucial skills that bring us more income? More time for our families?
What is it that we are not taught that once learned will give us the skills to break free & create our dreams?
The reality is that we dentists are one sided in our training with a predominant focus on clinical.
The common struggles that wear us down daily lie in the lack of control.
Lack of control of how our staff and office act.
Lack of control of how our patients act and respond to us.
Many of us just want to go to work, do dentistry & that's it. Many of us are sick of running our practice & our staff.
What if I told you that there was an answer? What if I told you that I could teach you skills that would give you control?
What if you went to work and you could JUST practice dentistry because you have created a team that works with you instead of against you?
The Solution:
My name is Tuan Pham and I am a practicing dentist just like you. You may have seen me on the cover of Dentaltown Magazine, on their message boards, on podcasts or live in person as a speaker at Townie Meeting. Maybe you've seen my books on Amazon. Or maybe you've seen me as the host of Dental Maverick Summit.  I have 15 years of experience and reproduction of success with results over hundreds and hundreds of dentists. More about me here.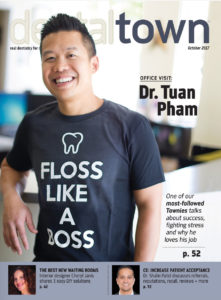 As a practicing dentist, I know WHAT and HOW a dentist thinks. We like to learn in sequence starting with the principles of WHY, leading to HOW, with specific sequence and system to duplicate and follow.
Why → HOW → SYSTEM & SEQUENCE. That's how we learn. That's what feels natural to us dentists.
Dr. Matt Bickel: "We are 26% over last year. Maverick ROCKS!!!!"  Dr. Bickel reports being up up another 20% and a 20% increase in NP also. Read his testimonial here.
Dr. Sunny Pahouja: "My collections in 2015 were 19.47% higher than 2014 collections. Maverick videos gave me more confidence." Update: now at 200k a month in production. 
Dr. Chris Burton: "[I've] bumped my collections from around $40K/month to $60K/month…of all of the money and time I've spent in the last year, Tuan's course was probably the best investment I made." [Update:We collected 672K last year, and we're on track to collect somewhere around 775-800K this year.]
Dr. Chonway Tram: "We have been blessed with 22% growth [vs last]...hovering around 40-60 NPs/month." Read his written testimonial here.
Dental Maverick is designed to teach you control & predictability via the universal principles of communication, management and leadership. If we have a clinical issue, what do we do? Seek out the answer to make our procedure predictable with the desired outcome.
Why do many of us dentists suffer day in and day out with staff/patient issues? Why would we readily suffer these feelings for the rest of our career?
For the hundreds of doctors I've asked, it is because they did not know the answer was out there.
They did not know that there was a course unlike any other course that would allow them to learn principles of communication, management and leadership systematically just like learning how to bond composite.
Dr. Amrit Burn: "2015 we produced 117k more (20%) than 2014! Thanks Tuan!"  [Since joining in 2014, Dr. Burn has gone from 600k->~717k->~803k. In 2 years, that is a 203k increase in production!]
Dr. Melissa Wendt: "We've doubled production since this time last year. This is awesome, this is exactly what I wanted!  Thanks, Tuan! I REALLY could not have done this without you! "
Dental Maverick trains you & your staff from the comfort of your home or office via 48 doctor video training modules + 26 Office video training Modules.
No travel
No down time
No lost office production
Unlimited & non-expiring access.
14 AGD CE hours.
Dental Maverick will provide you:
Increased profitability leading to a rapid rise in production and take home income. See testimonials here of doctors increasing office production by 50%, 100% or more!
Skillful communication skills to preemptively reduce upset patients and the creation of a patient base that are thankful & grateful for you!
Management skills to overcome the most commonly stated difficulty of business ownership: Staff management.
Leadership skills for the eventual formation of an office which works WITH you instead of AGAINST you.
You will earn more. You will pay off debts quicker. You will have more time & freedom. And you will enjoy work more with less daily stress. Dental Maverick will lead you to all of this.
Principles are taught systematically and sequentially specifically as you, a dentist, thinks. Why → HOW → SYSTEM & SEQUENCE.
You will have all the tools for success:
48 Doctor training Video modules in TED talk style format with actionable objectives to focus on for predictable implementation and growth. ($6295 value). Over 14 hours of copy written material to train you on communication, management & leadership skills.
26 Staff Training Video Modules to train staff to self manage and maximize their role to work with you instead of against you. With this access, you can train current and ALL future employees forever. ($4695 value)
Additional library of recorded coaching sessions. 30+ hours and growing! Over 50+ hours of information available to you! ($5552 value)
Systems Training Manual —Access to unlimited digital copies of this top-selling Amazon book which serves as a training and calibration manual for your office ($379 value)
Checklists — You will receive checklists for all the systems that I use in my office ($795 value)
Private & hidden discussion group exclusive to users of the course only. ($495 value)
24/7 email access to myself. Have an emergency, send me an email whenever needed. ($995 value)
Monthly coaching / mastermind chats included! Many courses have no access to the creator. This is my passion: to affect a change in as many dentists as I can. Included in your registration is no cost access to LIVE monthly coaching sessions ($5940 value). This option will be a monthly charge option in the future so join now to lock in a lifetime of no cost monthly coaching sessions!
A total value of $25146. Remember, success comes from having the tools, instructions AND motivation and GROUP support which Maverick offers. This is why users can achieve such high results!
Become the next Maverick now and click here to join!
See my podcast with Howard Farran of Dental Town about my Dental Maverick course:
Check out my SECOND pod cast with Howard HERE