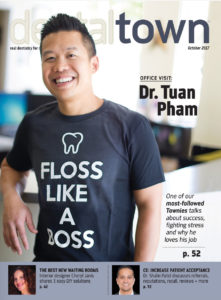 Hi. I'm Dr. Tuan Pham. Like I mentioned, you may have seen me on the cover of Dentaltown Magazine, on their message boards as user name "fliegenfischen", on numerous podcasts or live in person as a speaker at Townie Meeting or at Dental Maverick Summit. Or maybe you've seen my books on Amazon here, here and here. Or maybe a dental buddy just referred you over here.
I'm a real life practicing dentist with 15+ years of experience and everything that I teach with reproducible success over hundreds of Dental Maverick users was originally tried and tested in my office many years ago.
Dental Maverick was created because it is my passion to help dentists realize how wonderful a career dentistry can be if common hassles, annoyances and stresses in our daily business life can be managed and controlled.
The skills that I teach are fundamental skills universal to the success of your business. I think like a dentist because I am a dentist. I understand how dentists learn effectively and as such, have sequenced this course for you to gain confidence in yourself, your speaking ability and then your management and leadership abilities.
I have faith you can do it if you follow and commit to Dental Maverick Training. I spent 4 years to create a course in a manner that will help you grow and achieve the success and goals that you desire.
Almost ready to commit, but have a question? Email me at tuan@dentalmaverick.com
Check out my podcast with Howard Farran of Dental Town about my Dental Maverick course:

Also, check out my podcast with Jonathan VanHorn here and one with Jayme Amos here.